Transform your workplace with the Get Moving Challenge
Take the step towards a healthier workplace together. Engage colleagues, experience the community, and see how our health challenge can uplift your workday.
Get More Info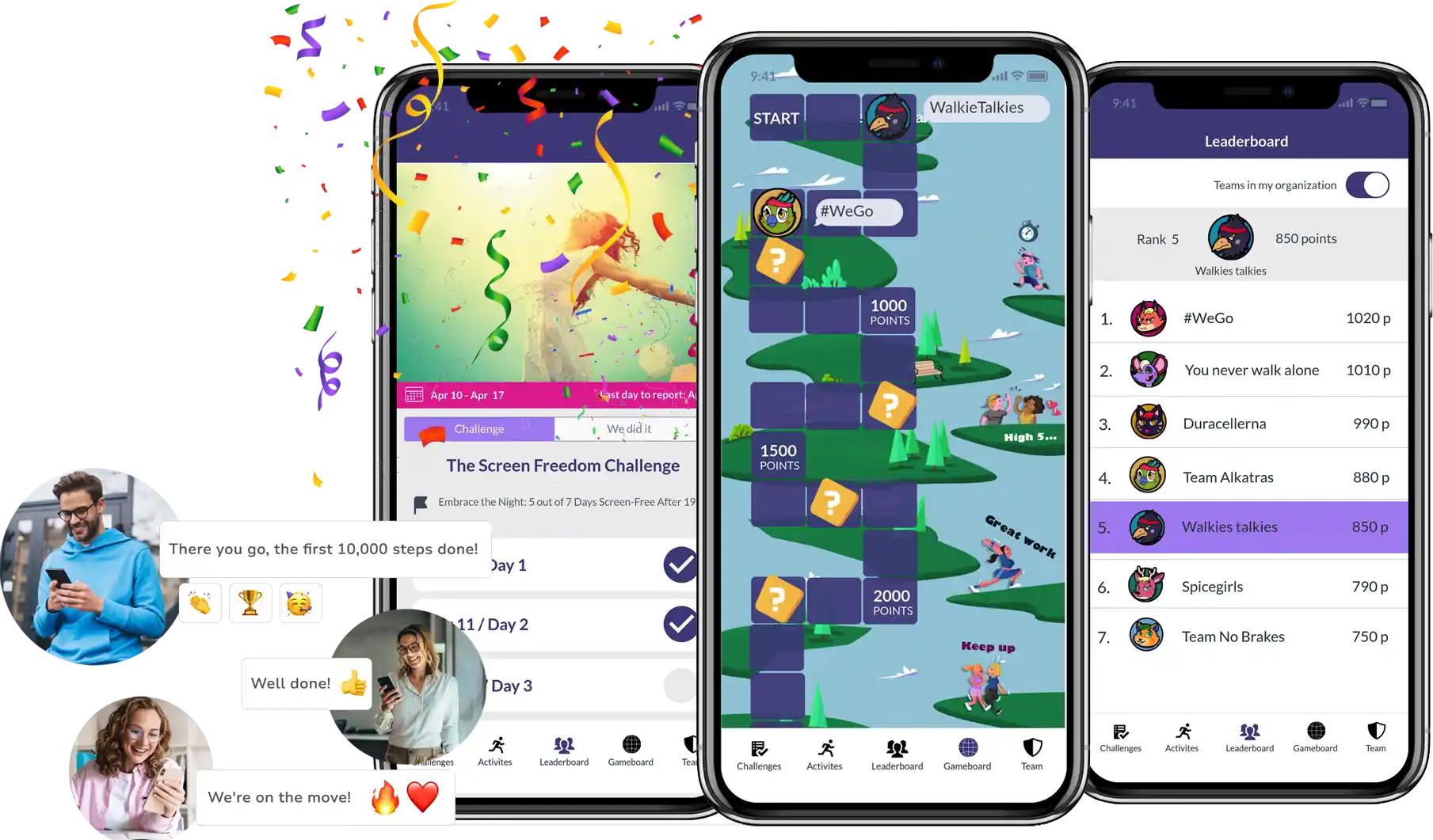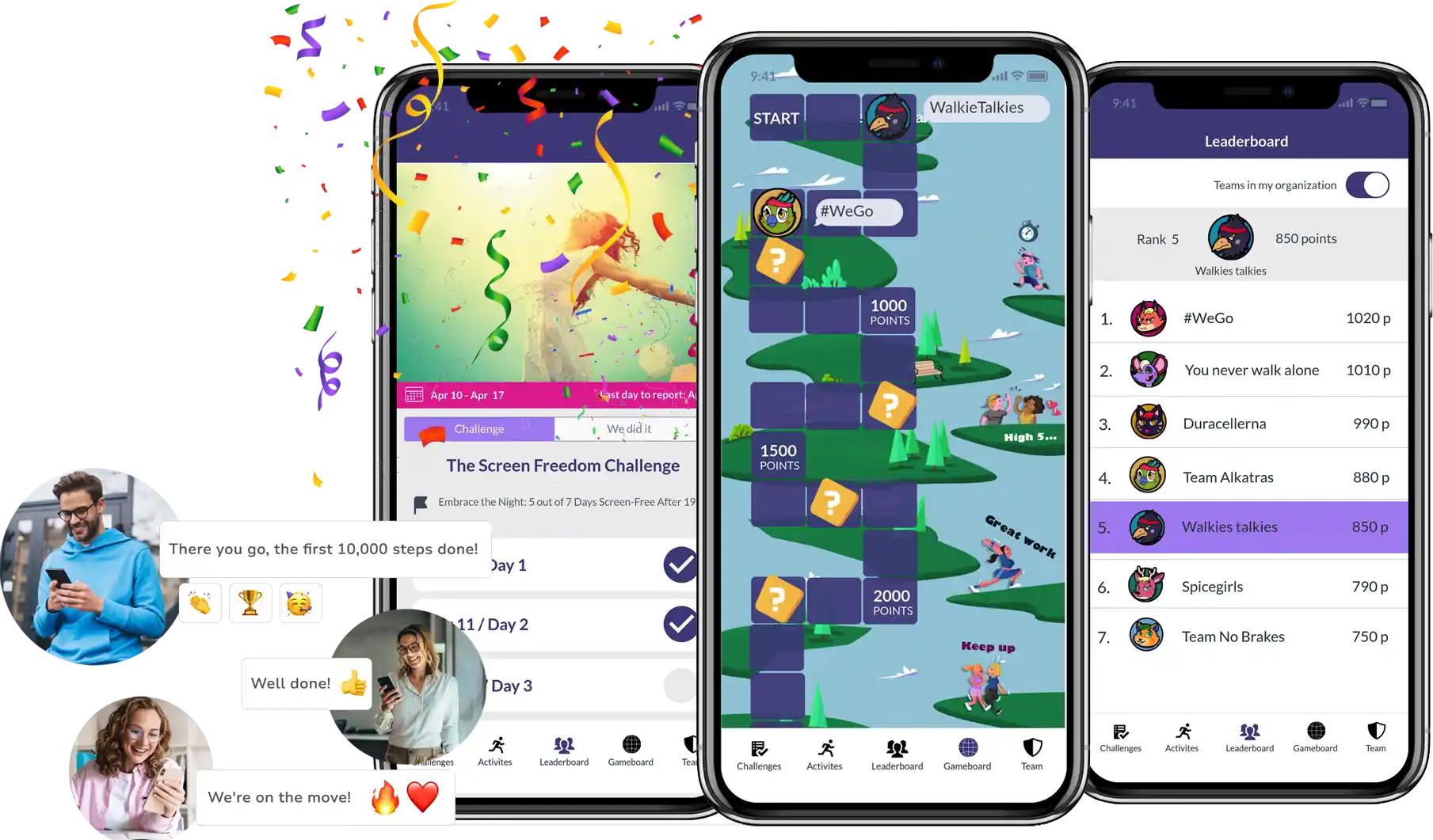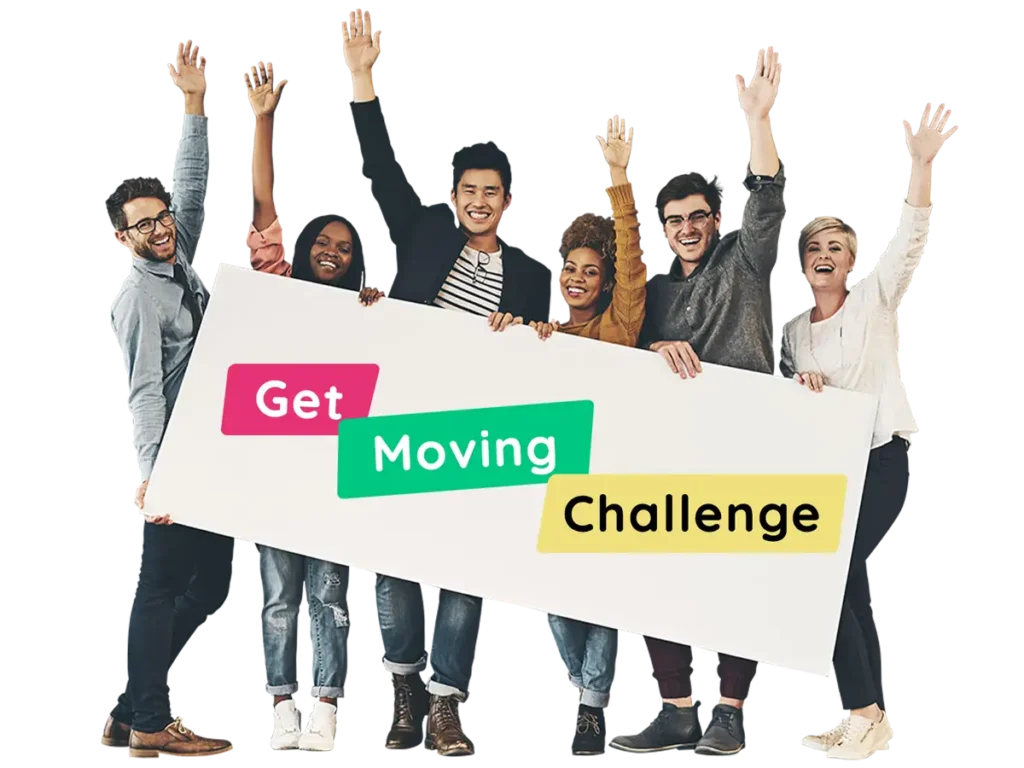 Register your workplace for the most inspiring team activity of the year
The Get Moving Challenge is a unique health challenge for workplaces. By participating, you create new, healthy habits together and improve cohesion and job satisfaction at the same time. Are you ready to take your workplace's well-being to the next level?
This is the Get Moving Challenge
A team challenge made for people of all levels of fitness and ability.
Walk. You earn points for every step you take.
Work out. Every minute will earn you points.
Complete any of the challenges recommended for you.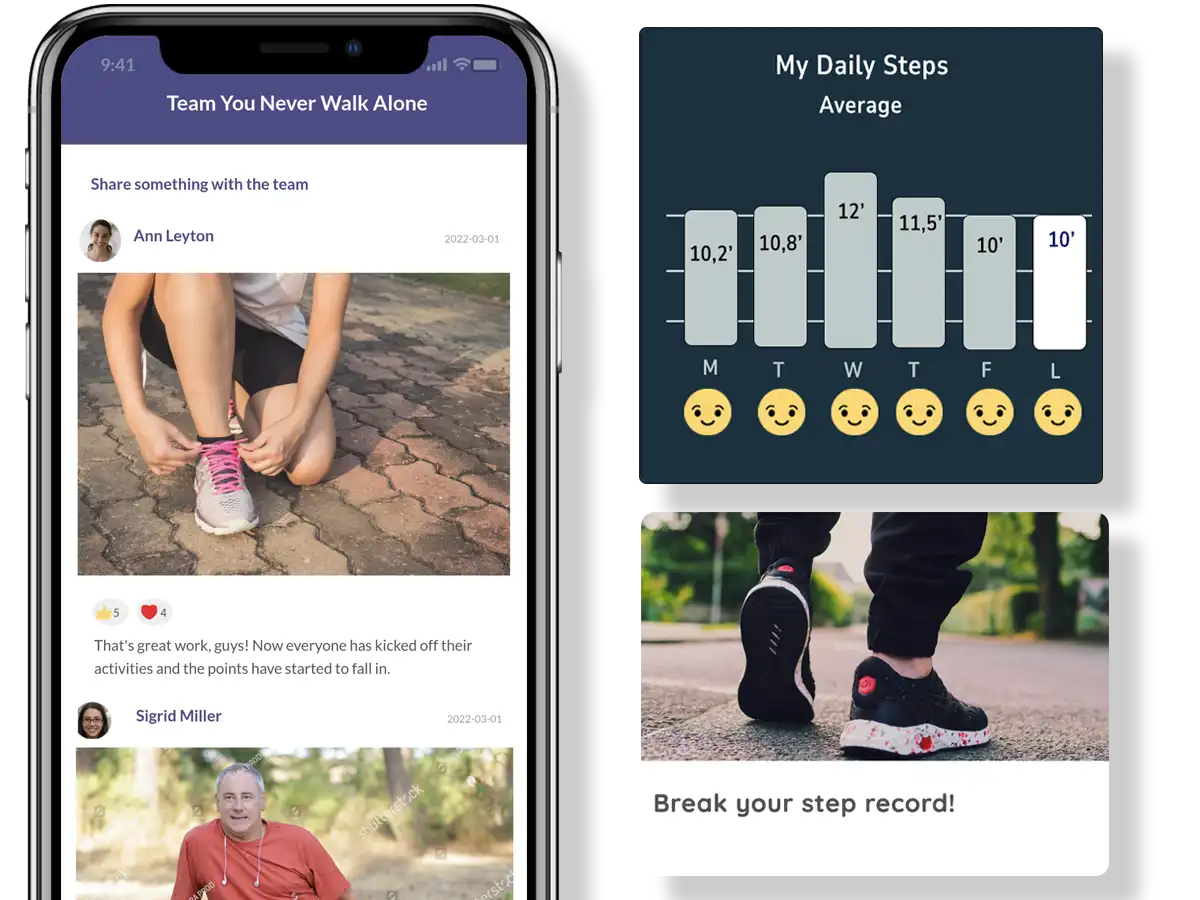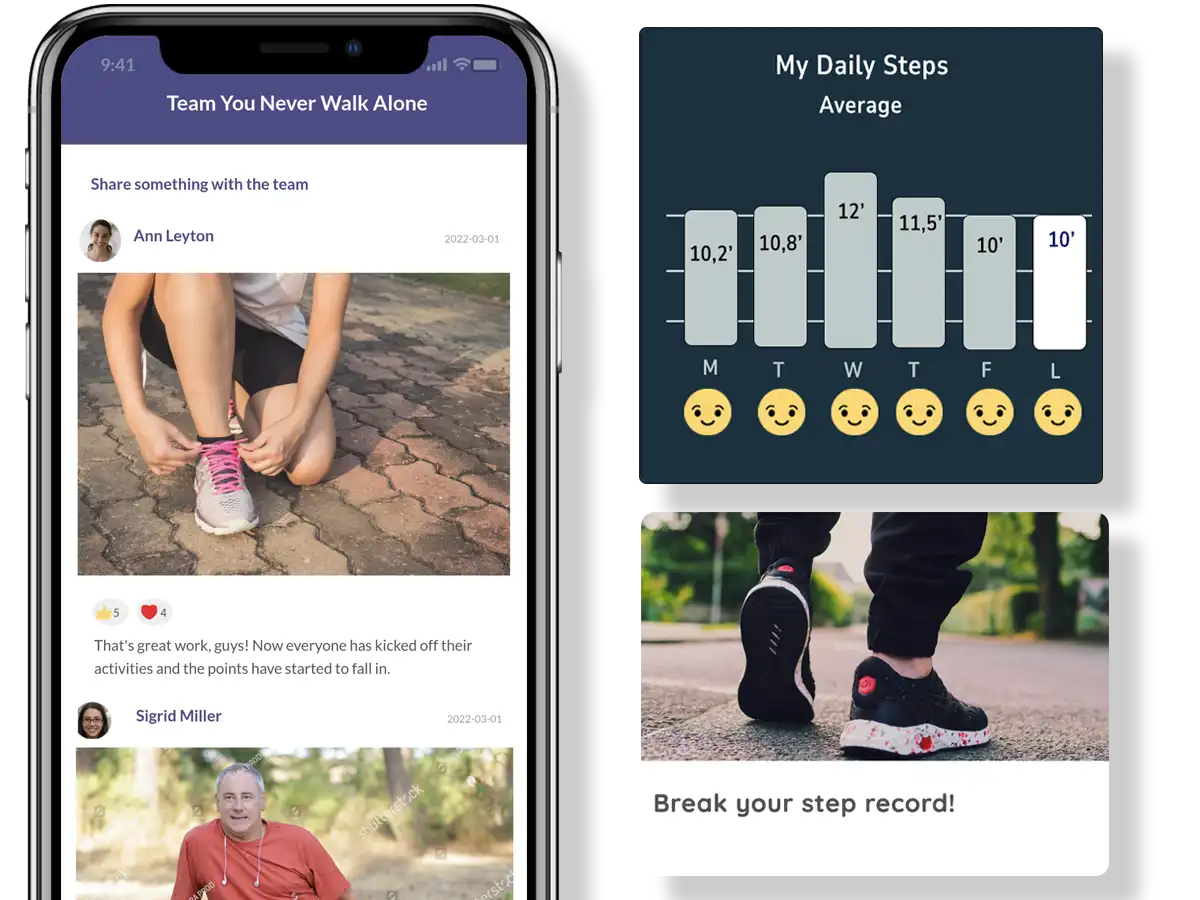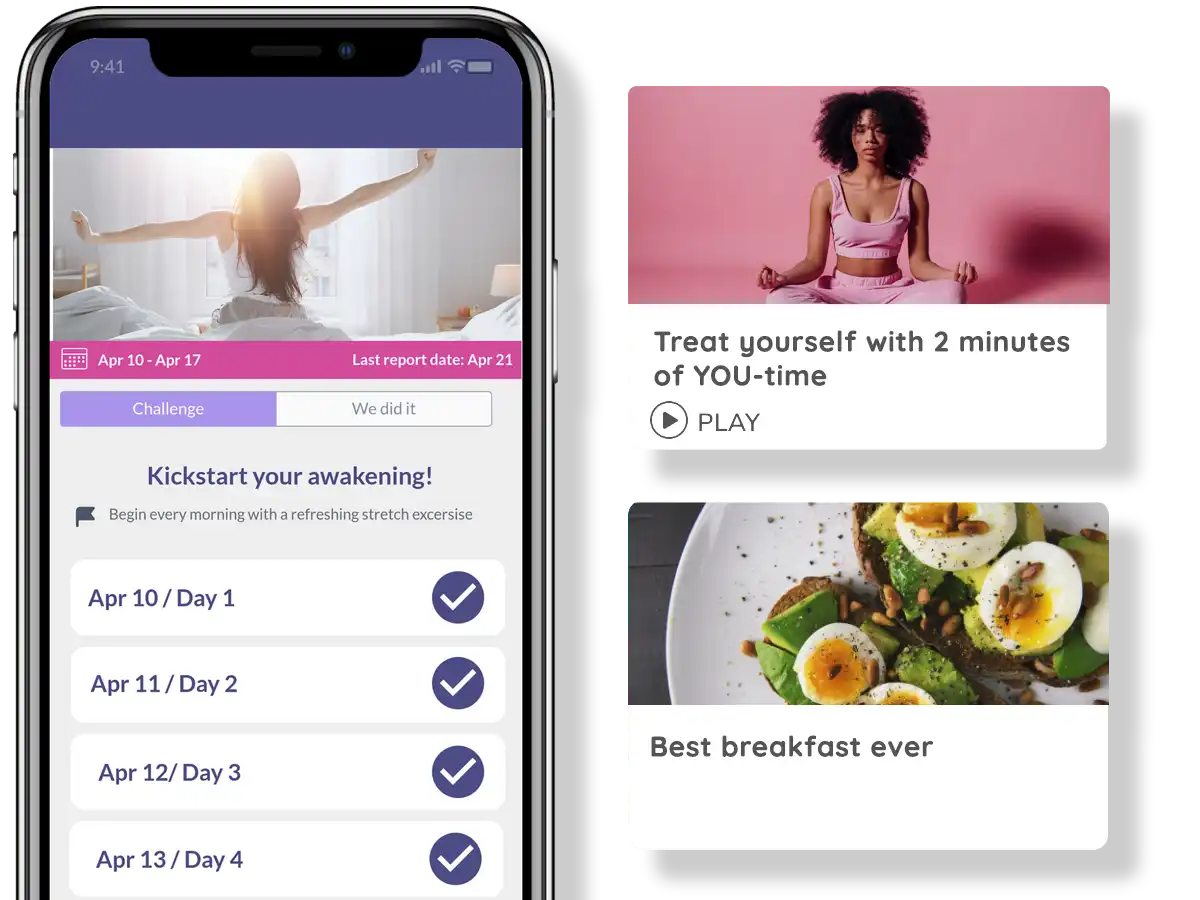 Designed to inspire
Includes inspiring challenges to address stress, focus, sleep and physical activity
Encourage simple everyday exercise
Breaks sedentary behavior and creates healthy habits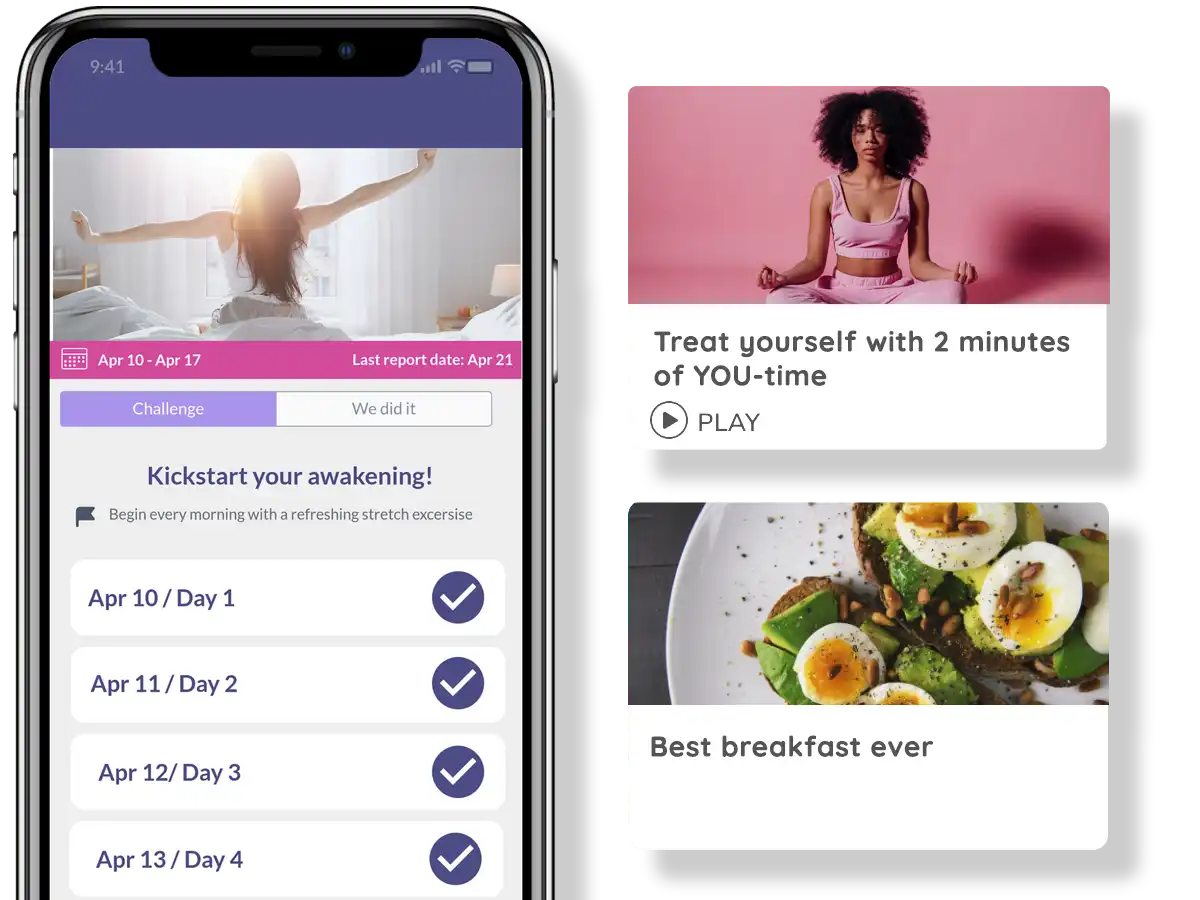 Easy to launch
Minimal administration
Connects employees regardless of location
Comes with flexible alternatives. Run a 4-6 week challenge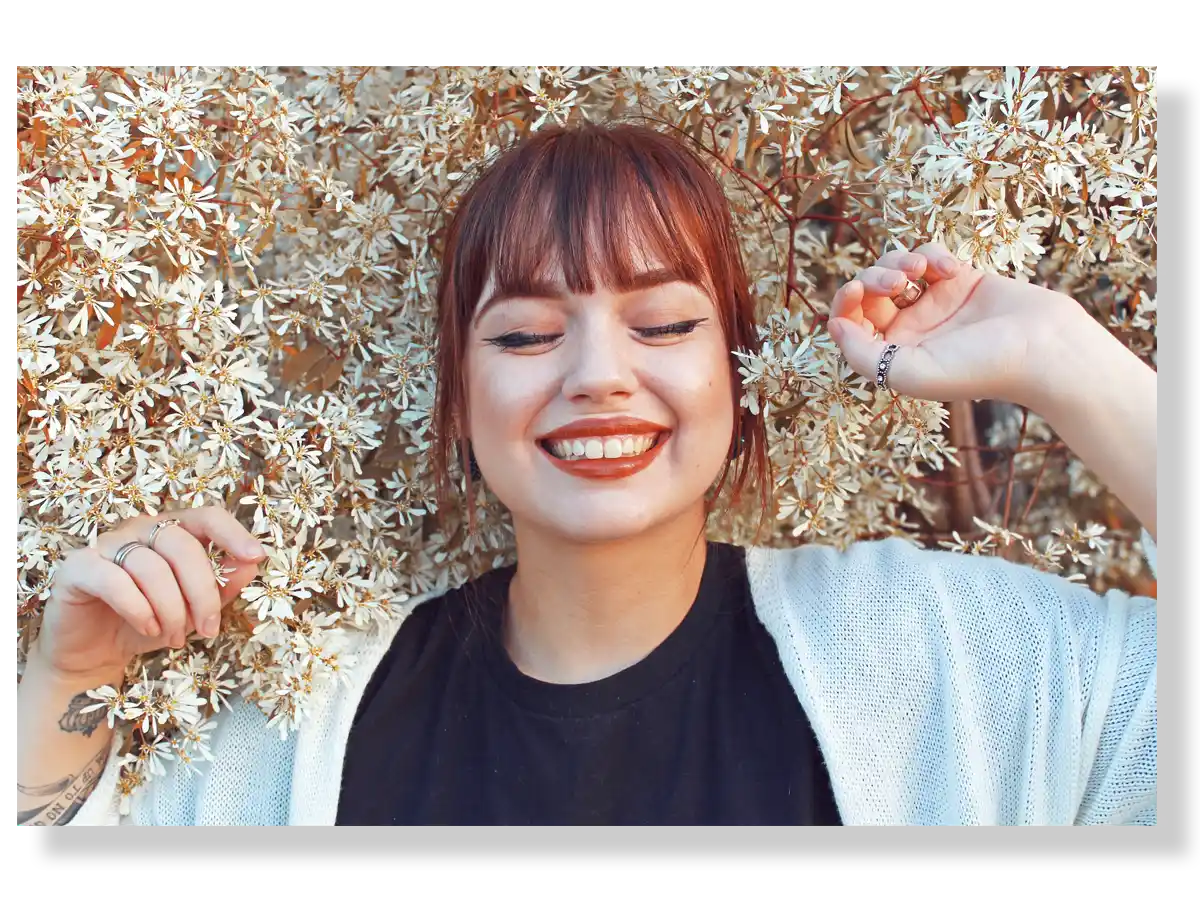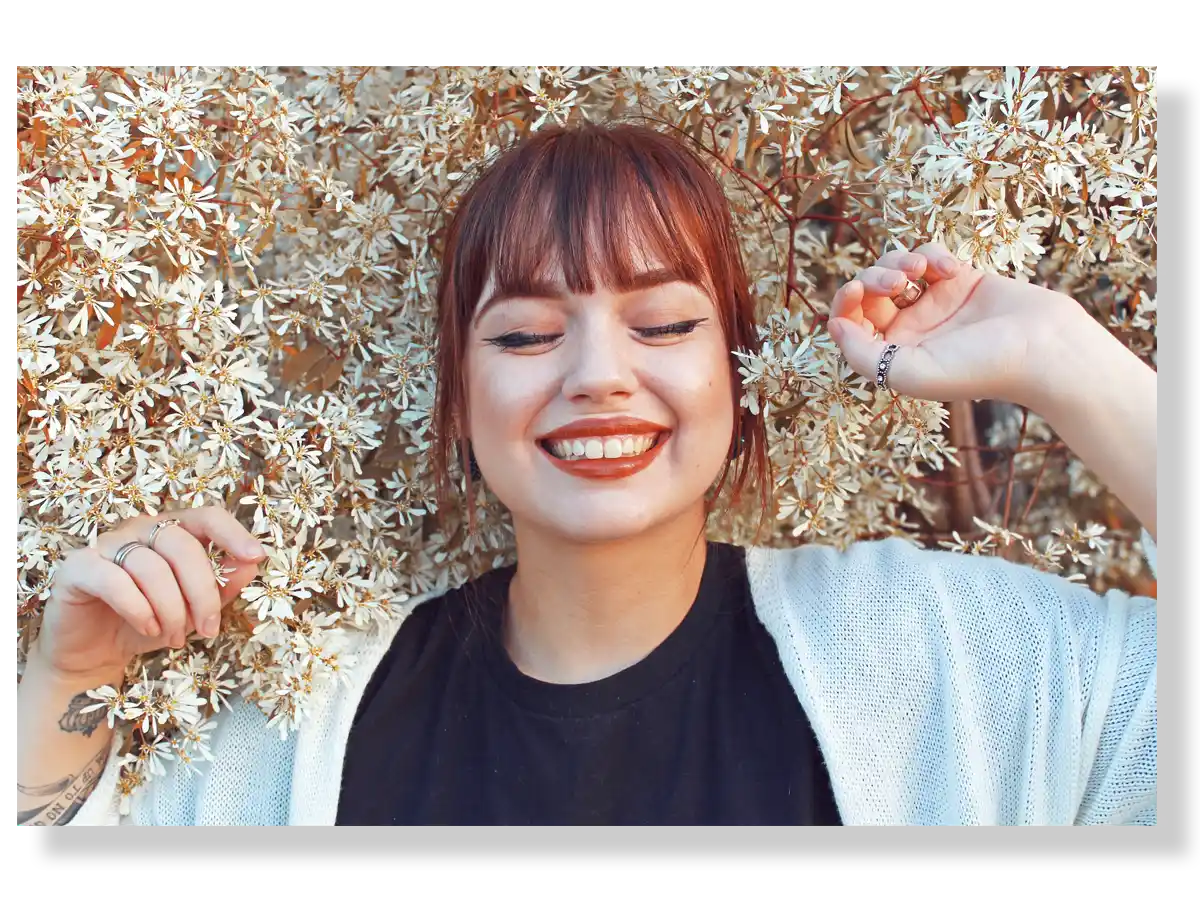 Join the Get Moving Challenge now and
experience the event of the year.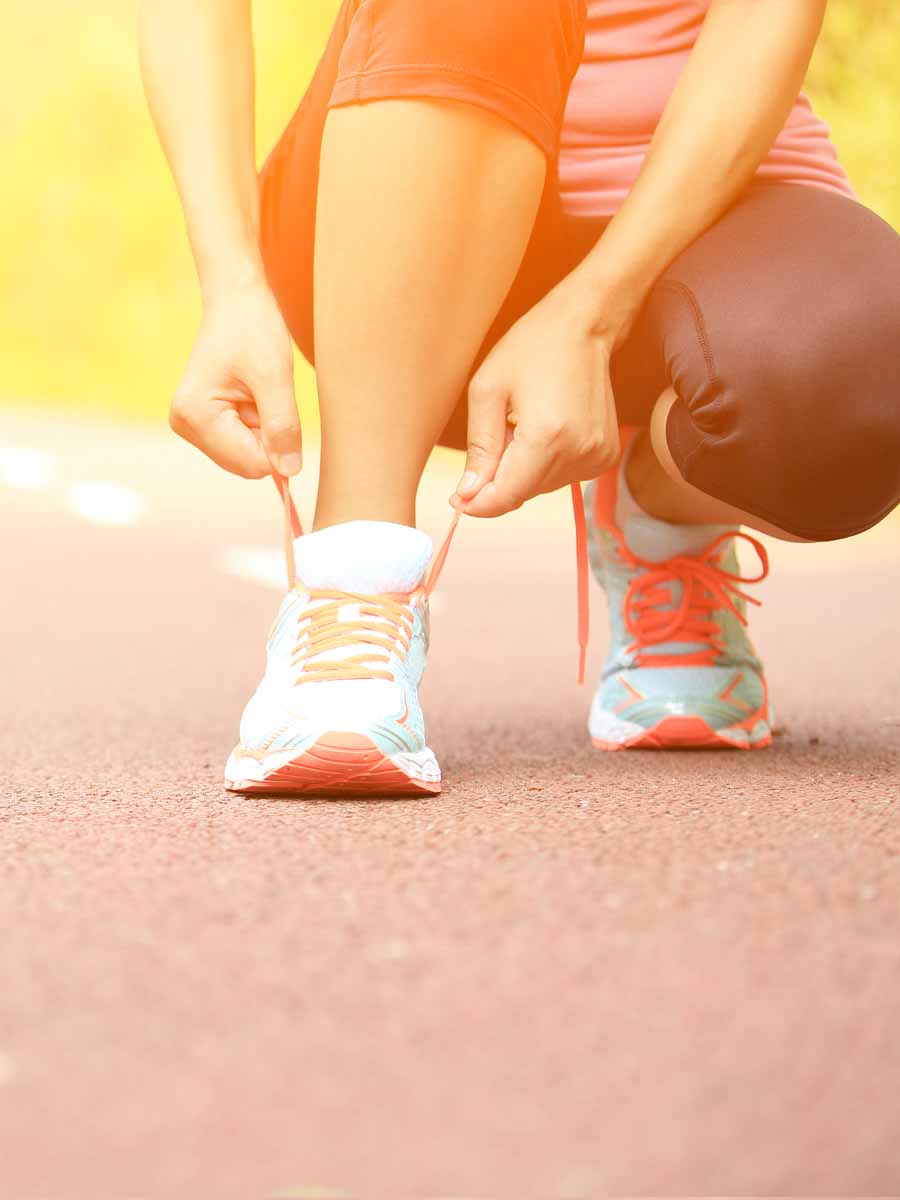 Start your Get Moving Challenge
Pick your own start date
Duration: 4 – 6 weeks (your choice)
We provide a money back guarantee if you are not satisfied
The Get Moving Challenge effect
83%
8 out of 10 improve their physical ability
71%
7 out of 10 eat healthier
52%
5 out of 10 sleep better
33%
1 out of 3 reduce their stress levels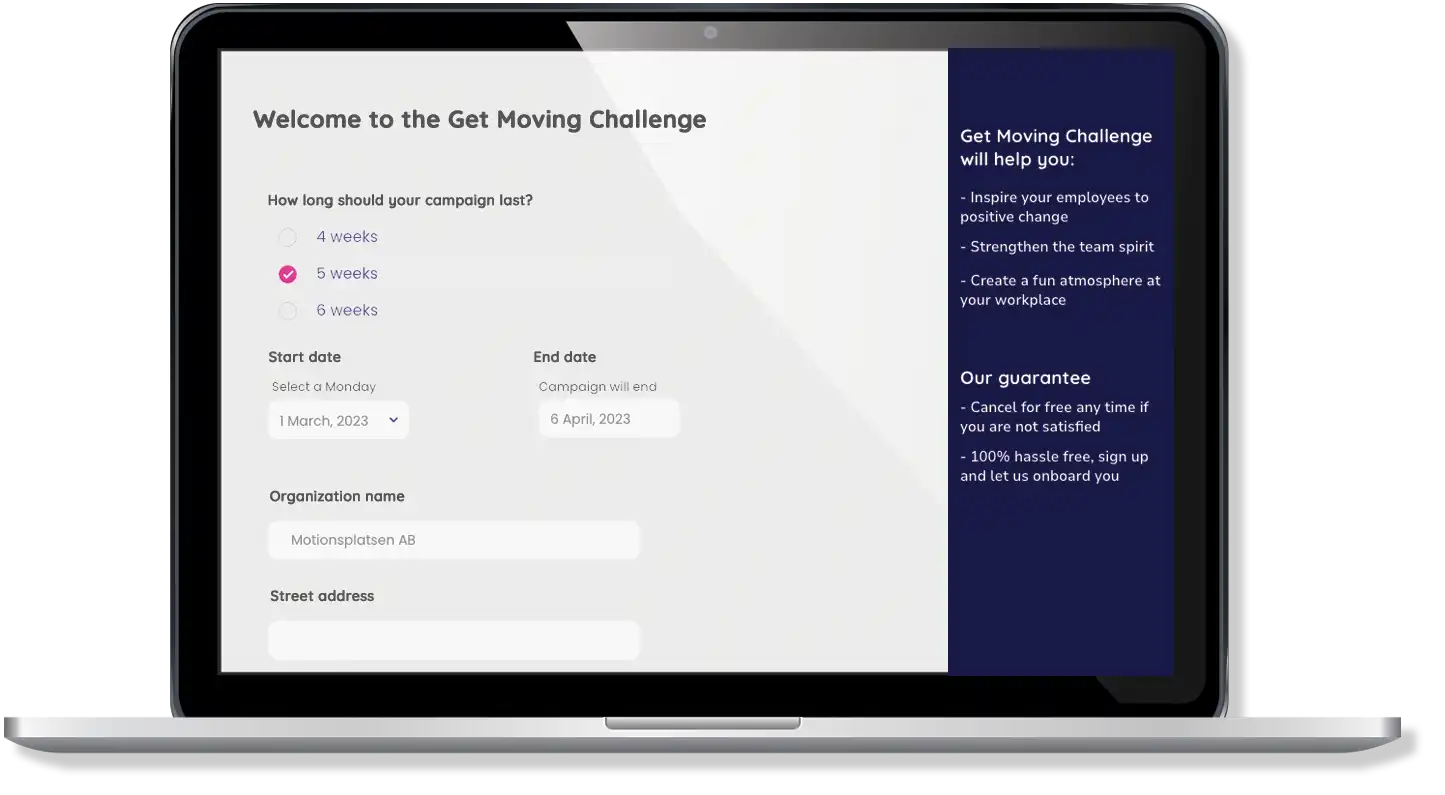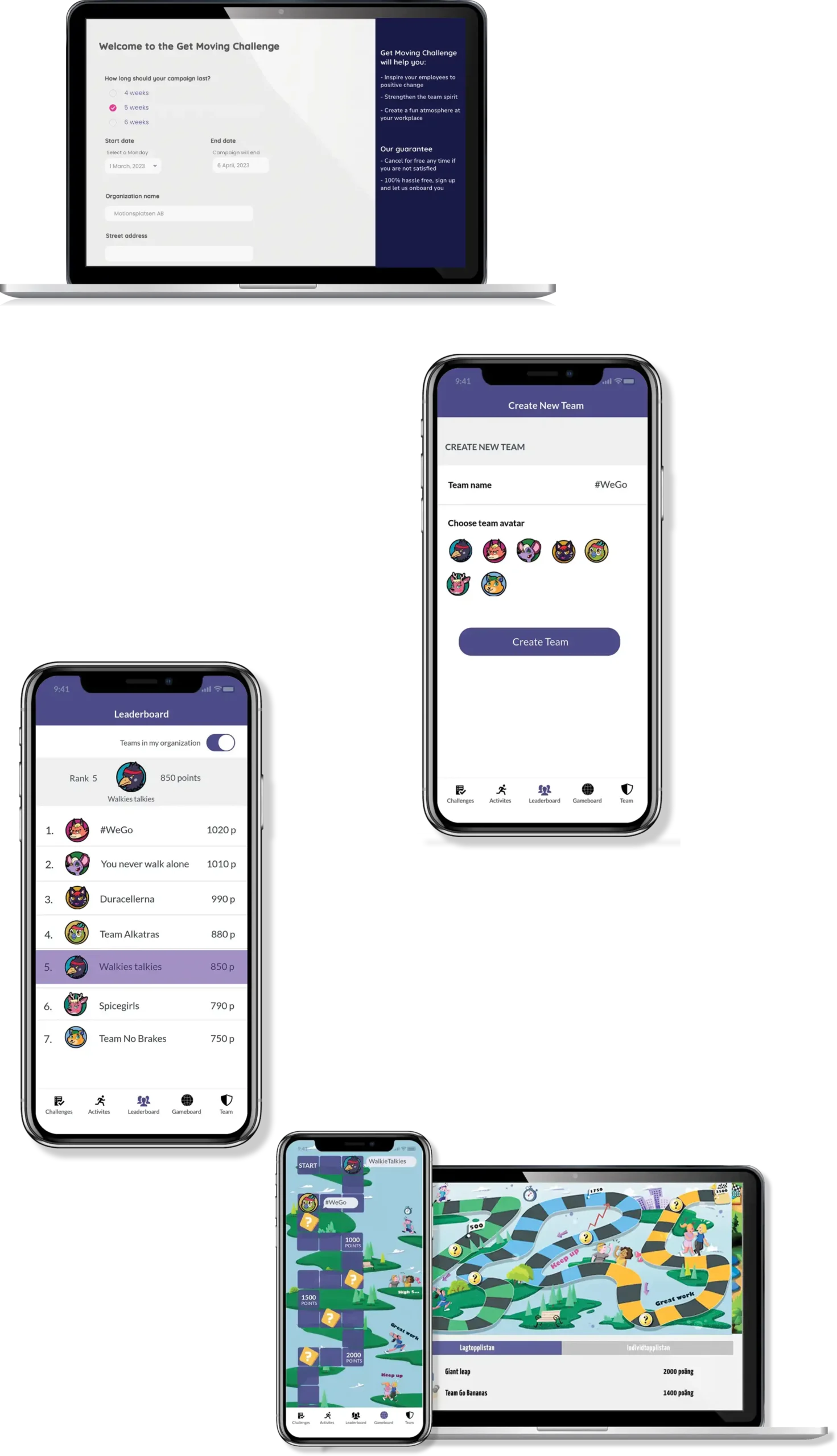 How it works
Register your organisation
You will receive a starter code by email, which you will forward to your employees and which they will use to create their own accounts. You will also receive a digital marketing material that you can use for internal marketing of the Get Moving Challenge. Users participate by either downloading our mobile app or logging in via our website.
Create teams
Users create their own teams. An uneven number of participants in each team does not matter, we recommend 3-10 people in each team.
Start to challenge yourselves
Exercise in the way that suits you. Any form of exercise counts. Take on one or more of our exciting weekly challenges to earn extra points for your team. Cheer each other on and follow your progress as a team and as an individual
Reach the finish line together as a team
The more you exercise and the more challenges you complete, the more points you will earn for your team. To reach the finish line in the virtual race, your team needs to collect an average of 100 points per day, which in terms of exercise is equivalent to 10,000 steps.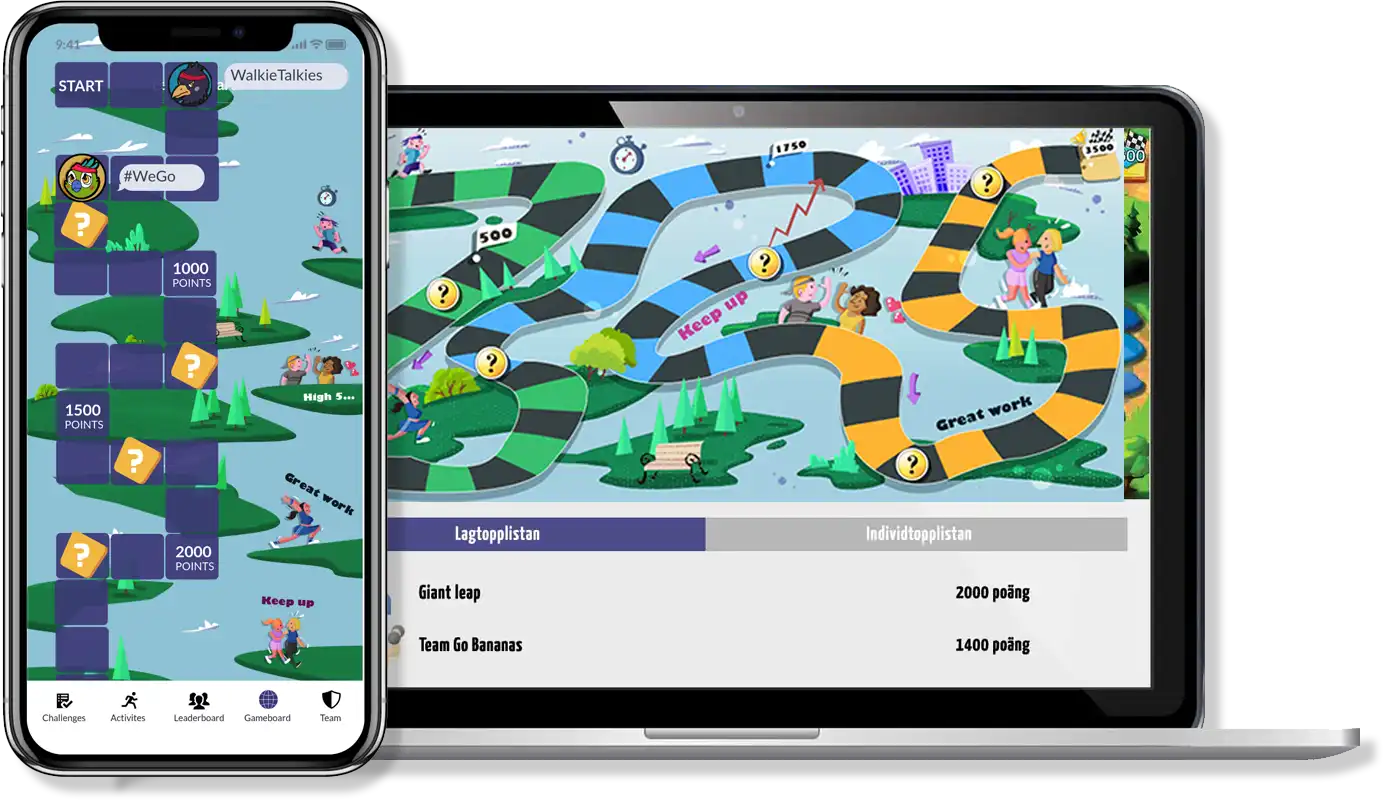 Frequently Asked Questions
FAQ
Our focus is not only on physical activity, but also on holistic health and team spirit. Through exciting, personalised challenges, we create greater variety and engage all employees, regardless of their exercise background.
Yes, you will get an invoice. Invoicing takes place in arrears with a 30-day payment period. An invoice is sent digitally to the customer contact person's email address.
You need to provide a valid VAT number for us to be able to deduct VAT directly on the invoice. If no VAT number is provided, we invoice with 25% VAT.

If you are based in any of the following countries, in the registration form, please provide:
US: EIN number, Australia: ABN number, New Zealand: GST number, Great Britain: VAT number
Once you have registered your workplace, you will receive a confirmation email. You will then receive a get-started email with a start code and instructions on how to create your accounts and teams. Give out the same information to those participating, and each participant will register their account and join a team.
You can download the Get Moving Challenge app on the Apple App Store or Google Play. As an option, you can also log in via your computer and use our web-based version.
Yes, you can use your smartphone as a pedometer so that your steps are automatically transferred to Staff in Motion. We have integrations with Fitbit and Google Fit. The apps can be downloaded free of charge from the App Store or Google Play.
No, we only charge for the number of registered accounts. Therefore, you do not need to know precisely how many you will be in advance. However, you can estimate if unsure.
Through the service, each customer can access a health report and view statistics on their progress, participation and outcomes. All information is presented at a summarised level and can never be attributed to a specific individual.
Yes, in addition to our standard challenges, we offer the possibility to customise your own challenges to match your company culture and goals. Custom challenges are easily created in our admin interface.
We offer support via email throughout the duration of the challenge.